Roux Carre, a New Orleans food court to level the playing field, gets reboot with pop-ups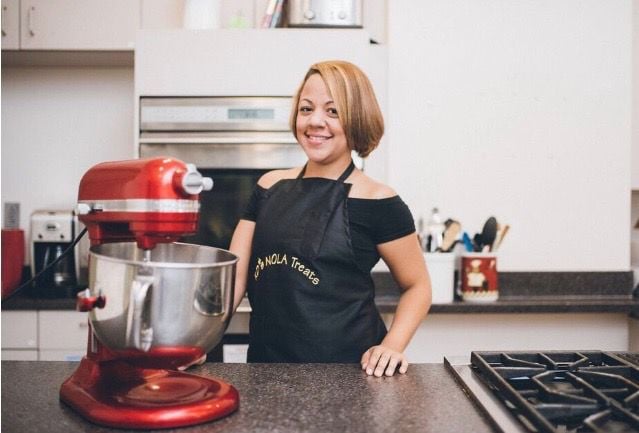 Kim DeJan has built her KD's NOLA Treats with small, bite-sized desserts, but she has big ambitions for her homegrown brand. This week she takes another step toward them.
KD's NOLA Treats is the first vendor for a new series of pop-ups at Roux Carre, a unique business development food court in Central City intended to level the playing field for women and minority entrepreneurs.
For a 12-day stretch running through Jan. 28, DeJan will have a walk-up stand here to sell her praline brownies and red velvet cake shooters, her mini Key lime pies and ever-popular oowee bars.
It's part of a revamp for Roux Carre itself, which by March should have a new slate of food vendors selected through its pop-up series.
DeJan started KD's NOLA Treats by selling desserts from her home in New Orleans East. She hopes to eventually develop her own production facility with a storefront and a teaching kitchen, where she can expand the baking classes she now holds for children in Broadmoor's Rosa Keller Library.
To get there, she's sold her treats door to door, catered parties and fielded festivals and events. The Roux Carre pop-up is a new tactic.
"I think it's all about that personal one-on-one contact, knowing your baker and knowing where your food comes from," DeJan said. "I see Roux Carre as a great way for me to get out there and meet new people. Will my regulars be loyal and come here? Will I gain new customers? Will I be accepted at this new location? It's time to find out and showcase what I do."
Roux Carre was designed to fill that role, though its approach has been evolving.
The food court was created in 2015 by the business development nonprofit Good Work Network. Its overarching goal is to make the economy of New Orleans more inclusive for women and minorities, and the food court gives that mission a culinary lens.
"There's a lot of talent that goes unnoticed because there isn't a lot of support for them," said Tyler Sangermano, food incubator manager for Roux Carre. "Access to capital is heavily skewed away from women and minorities, and that's often the biggest hurdle they face to building their own businesses."
The food court was conceived as a lower-risk avenue for emerging talent and new entrepreneurs to field-test their concepts without the cost of a conventional restaurant. It provides walk-up stands in its open-air food court and training and coaching behind the scenes.
A number of food concepts have cycled through Roux Carre's five stands in the past two years. There is currently only one full-time vendor here. That's Johnny's Jamaican Grill, a business that Clinton Haughton started with a kettle grill on the sidewalk before moving up to a food truck. At his Roux Carre stand, he serves spicy flavors from his native Jamaica.
Roux Carre also has a bar for juices, beer and wine, which is run by the food court itself.
The new pop-up series is an extension of Launch Pod, a four-month business accelerator program that Good Work Network introduced late last year. The nonprofit also runs a related series of culinary business development workshops called Mise en Place, which is ongoing and open to the public.
Entrepreneurs participating in Launch Pod will alternately run pop-ups to test their concept with paying customers.
There will be a new concept popping up here every other Tuesday, continuing through March 4. Then, on March 11, Roux Carre will host a collaborative pop-up dinner with all those who took part.
At that event, the group will announce the list of concepts that will be offered residencies to operate in the Roux Carre longer term. They'll be offered individual spaces in the food court for up to three years, with the intent that they will outgrow or evolve past the Roux Carre program by then.
In addition to DeJan's KD's NOLA Treats, Roux Carre will have pop-ups from Melissa Araujo and Pepper Bowen of Alma, Aaron Washington of Local Menu NOLA and Lisa Nelson of Queen Trini Lisa.
"Our core mission hasn't wavered," Sangermano said. "We're looking to provide something for Central City that reflects the community and help women and minority-owned businesses enter the market."
https://www.kdsnolatreats.com/wp-content/uploads/2020/04/mikaela-and-kim-roux-carre-rotated.jpg
640
480
kdnola
https://www.kdsnolatreats.com/wp-content/uploads/2021/07/1F084D93-1784-4AFC-98A2-5F2386F74003-300x300.jpeg
kdnola
2018-06-28 19:59:37
2021-05-02 18:13:52
Feature in The Advocate